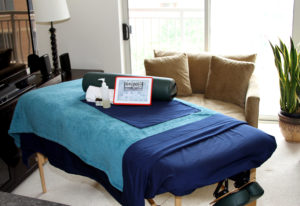 It's come to my attention lately that people don't know how this whole at-home massage thing works, so I'm going to break it down in parts and you can hopefully find the info you need. (If you can't, just contact me and I'm happy to answer whatever questions you have.)
Aside from my awesome massage skills, what I bring with me into your home is the following:
massage table
Mr. Fluffy (thick, fleece table cover that adds an inch of luxurious softness to the table)
clean sheets for the massage table
massage oil (lately it's been sunflower/safflower oil)
variety of essential oils (both optional and free)
relaxation music
clock
calendar
credit card reader
The table is in its case; Mr Fluffy required a separate bag (but it's worth it!) so everything else is in an enormous black bag. Don't worry, two bags suits me fine and keeps my shoulders even. If the stairs are narrow, sometimes this means making two trips but hey, it's not that far.
I do keep a blanket in my car but I only tend to bring it inside with me when it's cold out.