Your best massage starts here.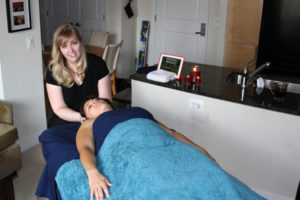 I'm Melissa Morse, I've been a Certified Massage Therapist in Virginia since March 2002. I became a massage therapist because I love giving a great massage. It's highly satisfying to restore someone's range of motion, to work out the knots in their shoulders, to get rid of the tension that's been causing their headaches.

My work is my joy. I call myself a rockstar because this is where I shine.
I do not have a standard cookie-cutter massage that everyone gets. Instead, I discuss with my clients what they need that day, what needs focus, what needs to be avoided, if we're going for relaxation or pain relief and then create their custom massage from there.
My touch can be feather light to as deep as you can stand. I have worked on every body type, shape and size. I believe that massage is the one last things in the world that actually is all about you. It's your time, your massage and I am happy to work within whatever bounds you have.
It's been over fourteen years and I still love to give a great massage.
I am offering massage therapy in my clients' homes to enhance the benefits of massage. This way, there is no driving in traffic afterwards; there's just you, already at home, sinking into the couch, maybe going to bed early or taking a bath to soak those muscles.